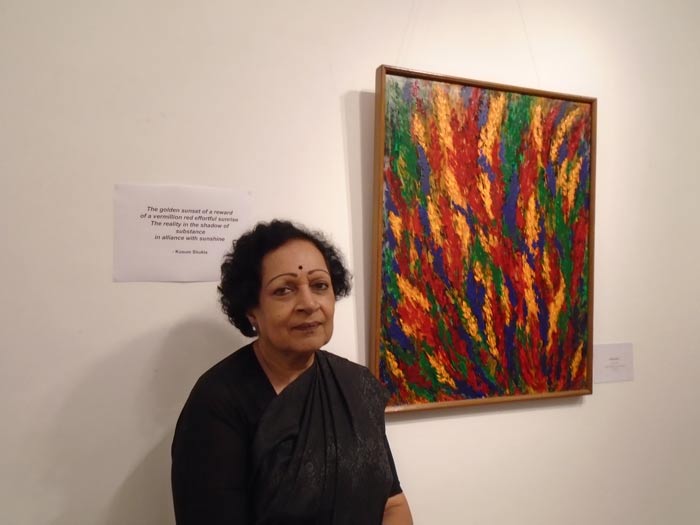 About Garden of Memories – in the words of the Kusum Shukla, Artist & Poet
A garden is a memory of passage of time. Seasons pass through a garden with their myriad hues and sensations, affecting our moods and creativity.
Nature has always been an influence in my artistic endeavors, be it poetry or painting. The beauty of fragile flowers swaying in the aromatic breeze and the musical chirping of tiny birds are certainly enchanting.  The impression of joy and festivity resonates all around in the veins of Existence.
I traveled from one country to another with my diplomat husband. The official residence always had a beautiful garden surrounding it. I automatically became in charge of supervising the garden. Given my love of Nature, I enjoyed the gardens and saw to it that they were tended to meticulously and sincerely. In return, these gardens were my Muse.
Each country had its characteristic plants, trees, flowers, butterflies and birds! I always cherished and admired Nature and the philosophical and spiritual bonds are reflected passionately in my works.
The Abstract Expressionism of my canvas (expressed using palette knives) represents the strength, optimism dynamism, inner joy and introspection of the deepest recesses of my Soul.
'Sufism' or devotion is intertwined with every moment of my meaningful existence and comprehension. It helps me transcend the physical level of Consciousness and enter the Realm of Spirituality.
About Kusum Shukla
Kusum Shukla, Poet and self taught Expressionist, paints with oil and acrylic colors on canvas with a self-developed technique using palette knives. A veteran of 21 international solo exhibitions and numerous international Group Shows, Kusum is also an internationally awarded artist and her works have received critical acclaim.
Part of the proceeds of her 22nd Solo Show will be donated to select charities for the Tiger Conservation Program in India and for Tribal Childrens' Education.
A selection of art works that were exhibited and which received appreciation have been uploaded and are shown for sale. Each artwork is accompanied with a Certificate of Authentication. Copyright of the original artwork remains with Kusum Shukla and her family. Inquiries may be directed to kusum(at)kusumshukla(dot)com.
The artworks are grouped in series – Garden of Memories, Majestic Tiger and Ode to Nature. Links to the next series are at the bottom of the Page which when clicked will open the next set of exhibits in a new window.
The prices of the artworks displayed at the original show have been kept affordably priced to encourage visitors to contribute to Kusum's cherished Causes.
Celebration – Show's Signature Work
Medium: Acrylic on canvas using palette knives
Size: 32″ x 25.5″
                                         SOLD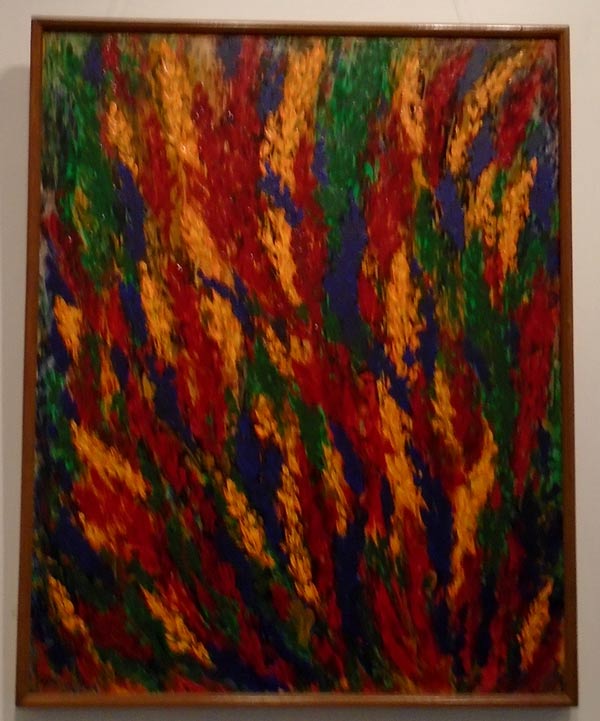 The golden sunset of a reward
of a vermillion red effortful sunrise
The reality in the shadow of substance
in alliance with sunshine
– Kusum Shukla
Garden of Memories Series 1- 6
Medium: Acrylic on Canvas using palette knives
Size: 12″ x 12″
Price on request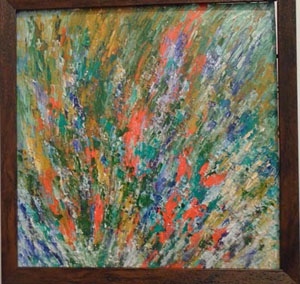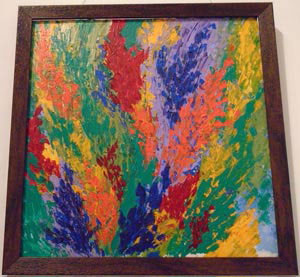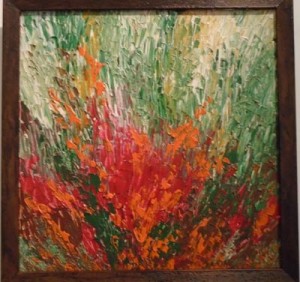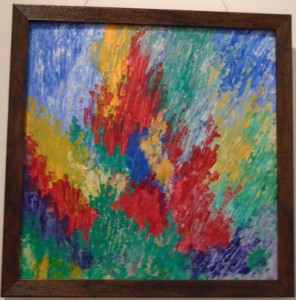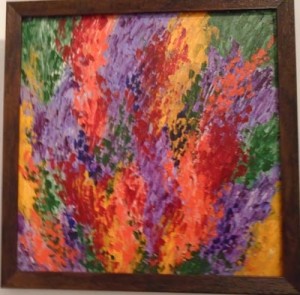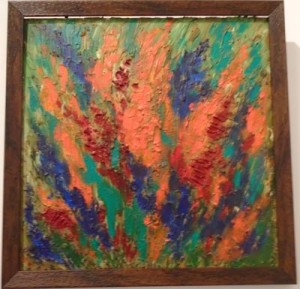 Click here to continue to view the Tiger Series
All content included on this website that includes works, digitized images, text, graphics etc. is the property of Kusum Shukla and is protected by copyright laws. No part of the site may be reproduced or transmitted in any form or by any means, electronic or mechanical without permission in writing from Kusum Shukla.