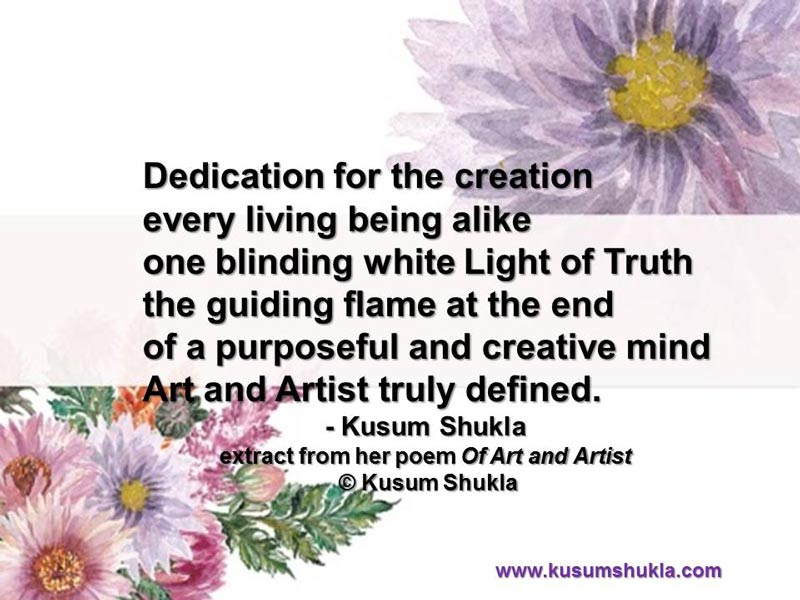 A compliment is a hard earned Treasure.
When an artist creates a work of art, it is a genuine reflection of the Soul. When a poet transforms his or her thoughts on canvas, it is a poem bejeweled with colors.
Often people have commented that my works remind them of Monet or Van Gogh. I remember way back in the late 1990s, the owner of a well-known auction house commented that if he were to combine Monet with Van Gogh, then he would get a Kusum Shukla!
That is a much cherished compliment because both Masters are my favorites. The floral ecstasy of Monet and the tiny specs of colors of Van Gogh are sublime.
The Great Masters were truly divine and one of a kind. They were the pioneers of impressionism and they gifted the World of Art a new dimension.
I being a Poet, am an Abstract Expressionist. My style of handling colors with palette knives has come naturally and from within my Soul.
The compliments and appreciation I receive make my life and efforts to express myself as an artist worth it. And we're not talking about just famous people or art critics; the simplest token of appreciation makes the heart sing because I know that my poetry written on colorful canvasses has spoken to the viewer.
So when my daughter invited her friends to one of my exhibitions, they felt they hadn't done justice in appreciating my works because they didn't understand abstract art and yet they felt a sense of happiness immersed in the colors on the canvas. I had to explain to them the finer points of expressionist abstract work and the fact that by feeling happiness, the purpose of the art work had been achieved.
When I received a compliment on Fine Art America for my painting The Dream (you can see the painting on Page 3 under Art Works) from a young artist, I was ecstatic. This young artist didn't know me in real life and yet his simple comment said it all – "reminds me of Van Gogh's works".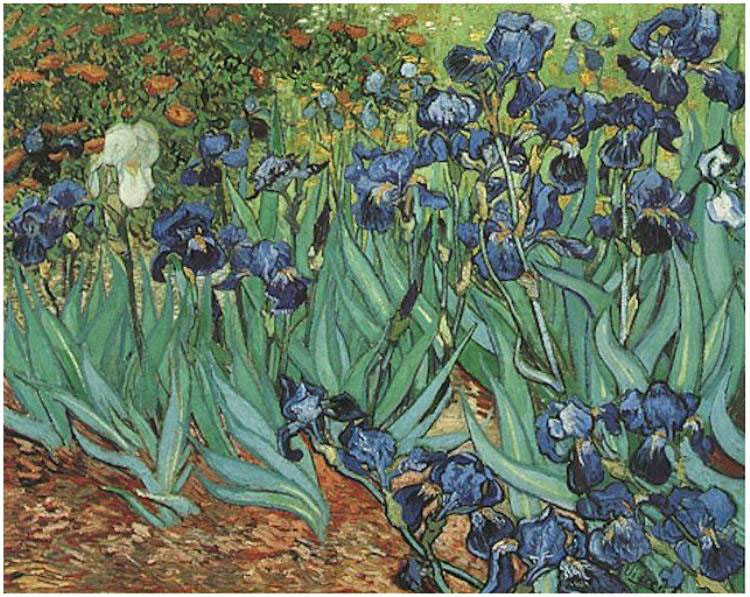 Vincent van Gogh, Irises
Painting, Oil on Canvas
Saint-Rémy, France: May, 1889
Getty Center
Los Angeles, California, United States of America, North America
F: ;608, ;JH: ;1691 Courtesy Van Gogh Gallery
True art as any artist will tell you takes time to create right from the point of visualizing the work to expressing it on canvas or other material that the artist uses. So asking them how many hours it has taken to create a work in order to decide whether the artist's price is reasonable is unfair.
Instead, let the work of art or sculpture speak to your heart and even if you cannot buy it or decide not to buy it, leave an encouraging comment for the artist who has ventured to share their passion and joy with you.
As a diplomat's wife, to follow this passion was very difficult as it requires a lot of time and focused attention. It is easy to forget time when one is absorbed in the creation of tangible expression. A luxury that I really didn't have!
But destiny had it in store for me that I should be reborn in the avatar of an artist. So here I am – a combination of poet and artist. My style is God given and I feel blessed with spirituality.
How sincere compliments make artists heart sing with joy