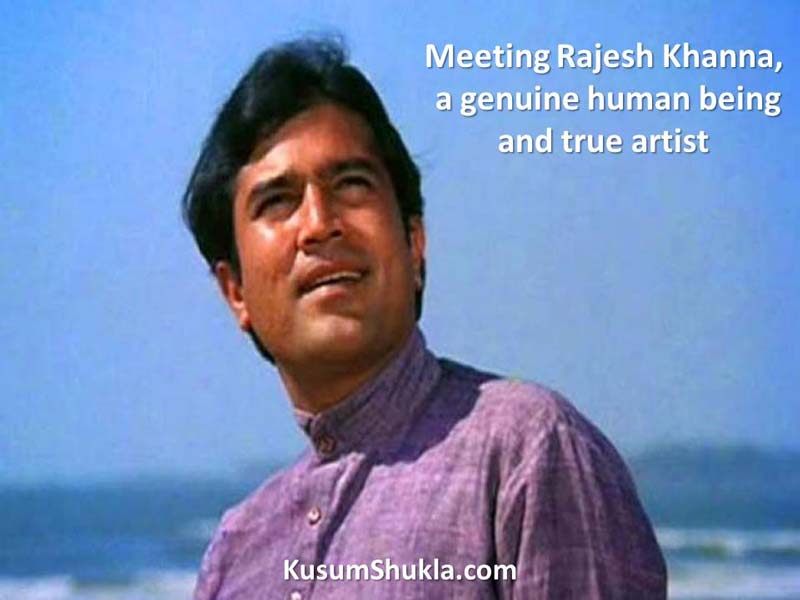 My international travels and stays in diverse countries during my career diplomat husband's postings not only provided me with inspiration for my paintings but also gave me unique opportunities to meet historical personalities of those nations and visiting celebrities, whom I would never have met and would only have known of them from newspapers and magazines.
I was blessed to meet these personalities as human beings and not their larger than life personas.
One such personality was actor, film producer and politician Rajesh Khanna – the first Bollywood actor for whom the term 'superstar' was coined after he gave the blockbuster hit film "Aradhana".
The term The Phenomenon was created for him after he starred in 15 consecutive solo hit films from 1969 to 1971 which is still an unbroken record. He made his film debut in the 1966 film Aakhri Khat which also made entry into Oscars.
This is the story of my meeting Rajesh Khanna and how I discovered a simple good human being behind the legend.
"Do you really know cooking? What all can you prepare? That is very good."
I never thought my ability and effort of cooking food in my kitchen would fascinate somebody so much.
The person who asked me these questions was none other than the great Superstar of Hindi cinema, the iconic Rajesh Khanna.
This gesture showed how much respect he had for ladies who cared about their families and fed them food cooked by themselves!
He was indeed a simple hearted family man who liked happy families living together.
My late husband was the Indian Ambassador to Doha, Qatar at the time and Shri Khanna was invited by a businessman to inaugurate his new shop of Indian sarees and various Indian attires.
We met at the shop inauguration and polite greetings were exchanged with the Indian tradition of a Namaste. When we offered to drop him at the Ramada Hotel where he was staying from a safety and security point of view, he politely agreed.
We travelled in the official chauffeur driven Mercedes with the Indian tricolour flying in front as is customary. His Secretary also wanted to come with him as he was scared about his safety.
Rajesh Khanna assured him by saying, "Don't worry about me. I will be as safe as the Indian Ambassador with me!"
In fact he had jokingly asked my husband, "Won't you show me the official residence of the Ambassador?"
He was having a general conversation with my husband about the Indian community there, their various problems and what were the possible solutions.
Very sensible and intelligent talk and in a way he was analysing the role of the Ambassador and the Embassy there.
He was in a very different role. Not at all like his larger than life cinematic characters but that of a real life Indian citizen, anxious and curious about real life international diplomacy.
When we reached home, he found out that I was a poet, an artist of colours and I made expressionistic paintings based on nature.
After looking at them, he made some interesting artistic comments. He asked me to explain the deeper philosophy of my works.
He liked the bright and vibrant colours on the canvas representing the joys, optimism and dynamism of the struggles of Inner Self.
Gazing at the paintings, he remarked, "In a way these are your soul (self) portraits?"
He was obviously searching for the image and portrayal of his own Soul!
He became thoughtful and meditative.
We offered him tea and he graciously accepted on the condition that I would make it. It was long leaf Darjeeling tea. I was so nervous and it felt as if I was making tea for the first time in my life!
Making tea for such a charismatic celebrity is not easy!
My hands shook a bit but I somehow managed to offer him the cup of tea. All this while, he was observing how I poured the tea in the cup adding milk and sugar to his taste.
He liked the tea and I was much relieved.
I had passed the test of being a Kitchen Queen!
Then we dropped him back at the Ramada Hotel where he was staying, safe and sound.
The next day there was a cultural program organized by the Indian business community of Qatar and lots of artists from Bollywood performed in an extravaganza of dance and music from Hindi films.
The highlight of the show was a performance by Rajesh Khanna. Dressed in an impeccable black suit, he delivered many famous dialogues from his own films that were super hits on release.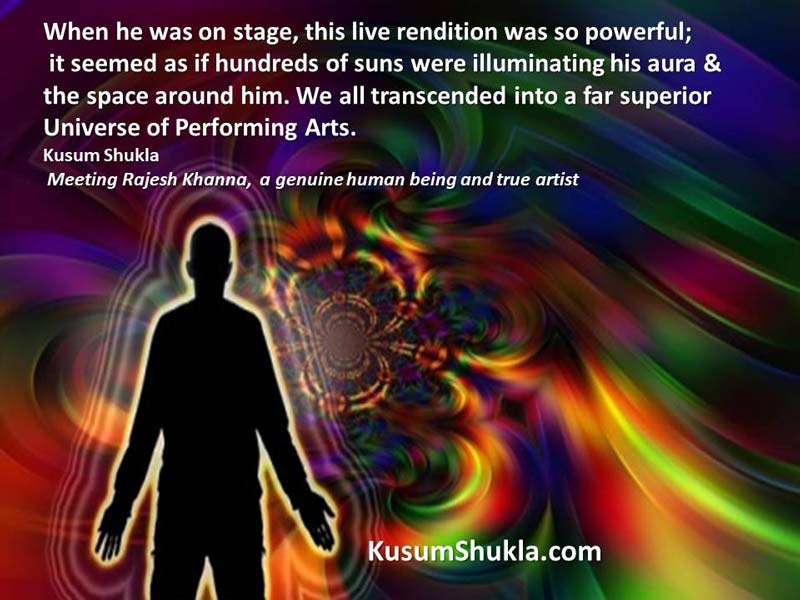 When he was on stage, this live rendition was so powerful; it seemed as if hundreds of suns were illuminating his aura and the space around him. We all transcended into a far superior Universe of Performing Arts.
The performance was appreciated with a thunderous deafening applause.
The following morning we were invited to his suite to have a cup of tea before he left Doha. He thanked my husband for taking care of him and for giving him an insight into the world of the Embassy, diplomacy and the people who represent the great country India abroad.
As I said goodbye, I casually mentioned, "please convey my Aashirwad (blessings) to Dimpleji (his wife)".
He laughed and said to my husband, "She is talking double entendre!"
Little did I know that his residence in Mumbai was known as "Ashirwaad".
We were planning to have an art exhibition at Taj Art Gallery in Mumbai and he promised us he would get it inaugurated by the famous film star Hema Malini. We felt much obliged. We exchanged pleasant good-byes and all the best for the future.
A special bond of human values had been established.
This was a unique experience and the opportunity of a lifetime to know a celebrity of Mr Khanna's stature from close proximity.
Later we came to know that he had a Degree in Psychology. I wouldn't be surprised if he had been assessing us as a psychologist behind his enchanting smile.
Never have I come across such a down to earth, polite, modest, affectionate, philosophical, respectful and intellectual artistic personality before. He was born to conquer the Universe.
23 years later, it was painful to watch on television the mortal form of this immortal phenomenon of Hindi Cinema, Indian films first Superstar being carried in a huge vehicle bedecked with white and only white fragrant flowers as he had wished on his final journey.
Nearly 900,000 fans came from places like Surat, Ahmedabad, California, Singapore and from other foreign countries to attend his funeral. They joined his wife Dimple Kapadia, her daughters and their families in his funeral procession as a mark of respect.
The fact that it was raining heavily that day in Mumbai did not deter them. Such was the power of his popularity with the masses.
Rajesh Khanna's cortege was driven slowly among a sea of people, the likes of which had never been seen before except at the time of funerals of leaders like Mahatma Gandhi, Nehru and Indira Gandhi.
Everyone wished to pay their respects to the departed Soul who had ruled over their hearts and minds and imagination for so many decades.
His mortal remains had to be offered to Agni Dev, the Fire God according to Hindu religion and tradition.
His Soul had to be immersed in the ocean of Fire only to be crowned with Moksha and become one with the 5 elements or Panchtatvas of Creation.
Our meeting the real Rajesh Khanna is validated by a very thoughtful gesture that he had prepared in advanced of his pending death – special pre-recorded message to his family, friends and fans which was played on his "chautha" (4th day after demise), in which he thanked and saluted his friends and fans for the love they showered on him and also shared as to how he became a successful actor without having any godfather behind him.
India did not forget him after his death either. A postage stamp, bearing his likeness, was released by the Indian Postal Services   to honor him on 3 May 2013.
On his first death anniversary, a bronze statue of Rajesh Khanna was unveiled at Bandra Bandstand, Mumbai. A chowk (intersection) in Girgaon has been named "Superstar Rajesh Khanna Chowk" in his memory.
Blessed is the Creative who touches the lives of many with their work leaving behind a legacy of supreme artistic creativity.
Meeting Rajesh Khanna, a genuine human being and true artist